Junior/Senior High Athletics Department
Assistant Principal/Athletic Director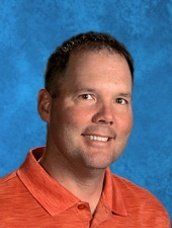 Athletic Links
Coaches
Fall Sports
Cross Country Head Coach: Lisa Bach
Football Head Coach: Jason Germain
Girls Volleyball Head Coach: Pamela Cooper
Sideline Cheer Head Coach: Sherri Berry
Winter Sports
Boys Basketball Head Coach: Brandon Coleman
Cheerleading Head Coach: Sherri Berry
Girls Basketball Head Coach: Craig Stiff
Wrestling Head Coach: Greg Hudie
Spring Sports
Baseball Head Coach: Chris Dipzinski
Girls Soccer Head Coach: Danyel Dormire
Golf Head Coach: Mike Moore
Softball Head Coach: Greg Hudie
Track & Field Head Coach: Mike Griesing
Athletic Passes
Family of 5 or more - $200
Family of 4 - $180
Individual Students - $30
Single Adult - $70
Seniors 60 or over who live in the district - lifetime pass - $20
Please call the Athletic Office to arrange a time to purchase the tickets. The number is (989) 660-2461. The main offices of the school do not have tickets to sell.
Eligibility Checks
Academic eligibility will be checked every seven days. These checks will be done on Monday morning by 8:30 a.m. of each week.

Teachers will submit current grades to the office through the online grade program for all students on Monday by 8:30 a.m. of each week to determine the eligibility status for each student for the next seven day eligibility period.

The eligibility period for eligible, probationary, or ineligible students will commence on the Monday of the eligibility check and will last for seven days.
This process will be repeated every seven days.

The athletic director shall inform the coaches, the Junior/Senior High principal, and the superintendent of athletes who are ineligible or on probation for the week no later than 1:00 p.m. of that Monday.

Athletes shall be informed of ineligibility by the athletic director no later than 3:00 p.m. that Monday.
MHSAA Previous Semester
Millington Junior/Senior High follows Michigan High School Athletic Association (MHSAA) requirements. Anyone who does not meet these standards will be ineligible to participate. (MHSAA Handbook) This in no way should be construed to mean that an athlete who passes weekly eligibility checks can return to full eligibility status in the affected semester.